The collapse of SVB—and the banks stumbling in its wake—has been the latest headline in a period of tense economic uncertainty. A postmortem of the bank's operations reveals risks with little oversight and an asset-liability mismatch. Despite years of positive and impressive growth, SVB suffered from a total collapse in just a matter of hours.
But as a business, SVB is not an anomaly. There are several catastrophic events that can stop even a successful and well-established business's operations entirely, many of them related to tech. In today's world, proper technology and fortified cybersecurity are integral components of modern businesses, and a tear in your infrastructure can potentially collapse an organization. Here are three, interconnected areas where risk is the most prevalent in IT.
Cyberattacks
The most significant threat to businesses—and the very top of our list of risks—is cyberattacks. Using various methods such as malware, phishing, and ransomware, cybercriminals can gain unauthorized access to an organization's systems, steal sensitive data, and cause significant damage to your reputation.
The 2022 Verizon Data Breach Investigations Report (DBIR) found 82% of breaches involved a human element, making it the key driver in cyberattacks. Human error is a significant threat to businesses, especially when it comes to cybersecurity. Employees may unintentionally or intentionally disclose sensitive information or fall victim to phishing scams, resulting in significant data loss and financial damage.
The most prevalent form of attack is phishing, a cyberattack that infects a system with malware when an internal user unknowingly opens a malicious attachment or link, often from someone pretending to be a coworker or client. With this malware, the actor will be able to steal your organization's data, which may bring the cybercriminal anywhere from a few cents to hundreds of dollars per record, depending on what it contains and how the buyer can use it.
This can lead to reputational damage, loss of customers, and hefty fines. In some cases, businesses may not be able to recover from the financial and reputational damage caused by a data breach.
Third party cybersecurity assessments can help you assess your risks, including the vulnerabilities related to your industry, your people, your technology, and your business partners. Vendor/supplier security is critical, so in addition to assessing your internal risks, you need to determine what data these outside parties can access—and what their controls and safeguards are.
Lack of IT oversight
A lack of IT oversight can have significant negative consequences for businesses, particularly those that rely heavily on technology to operate and compete in their industry. One of the most obvious risks is a cyberattack (mentioned above), but companies could face a range of issues that can affect both their performance and ability to achieve their strategic objectives if they don't include technology in their plans.
With no clear plan in place, a company may fail to keep up with the rapid pace of technological change and struggle to determine which technologies to adopt, which ones to avoid, and how to leverage them to stay competitive in the market. This can result in missed opportunities, wasted investments, and an inability to innovate and respond to changing market dynamics.
Additionally, without leadership and decision-making that involves IT, inconsistent and inefficient processes and practices arise, resulting in reduced productivity, increased downtime, and a negative impact on customer satisfaction. Without a clear understanding of how IT systems and processes should function, businesses may experience disruptions, errors, and delays that can have a significant impact on their operations.
Simply put, companies need a documented plan that not only looks at their current stack, but also grows their technology in line with their business. There should be oversight driving larger goals and keeping your systems functioning to stay ahead of a disaster—not just reacting to one.
Lack of qualified support
In the above sections, a critical piece of the solution is having an IT team that knows what they're doing, when to act, and how to use their resources to keep your organization safe. However, compared to other functional areas in an organization (marketing, finance, operations, etc.), 30% of executives believe skills gaps are more prevalent in IT, and 93% of employers indicate there is a skills gap among their IT staff. The leading drivers of the gap include fast-changing technology (46%), lack of resources for skills development (43%), and education not translating into workforce performance (39%).
The truth is, there is a wide range of events waiting to befall your organization that can spell disaster, and a leadership team should be anticipating issues with a "when" mindset, not "if." If leaders don't fully understand what IT does and the challenges they face, they will not be able to grow their team's skills, training, and technology stack.
But with the right team in place—whether its outsourcing IT vendors or developing an internal team—you won't have to worry about out-of-date hardware or software still in need of a critical patch. A strong team of IT professionals will already know preventive maintenance is essential for a secure and safe environment. They'll be able to assess, mitigate, observe, respond, and adapt to each unique challenge your organization faces, reducing financial impact, keeping your reputation clear, and staying within regulatory and legal compliance.
We're here to help
By understanding how your organization could be impacted by potential threats, you can better develop proactive and systematic processes like business continuity and recovery plans. Having pre-defined procedures to declare and respond to an incident as well as backup procedures, system monitoring, and cybersecurity measures in place to minimize the impact of such events.
Xamin is a technology, compliance, and security services firm specializing in regulated and reputation-sensitive organizations. As a trusted IT partner, Xamin takes the time to understand each of our client's unique challenges. We integrate with our clients' established systems—no matter their size or complexity—and provide guidance that aligns your organization with the right technology, security, training, and policies. And with an unmarred SOC 2 certification, we hold a proven, layered approach to cybersecurity guaranteed to meet the stringent requirements of regulatory guidelines and compliance.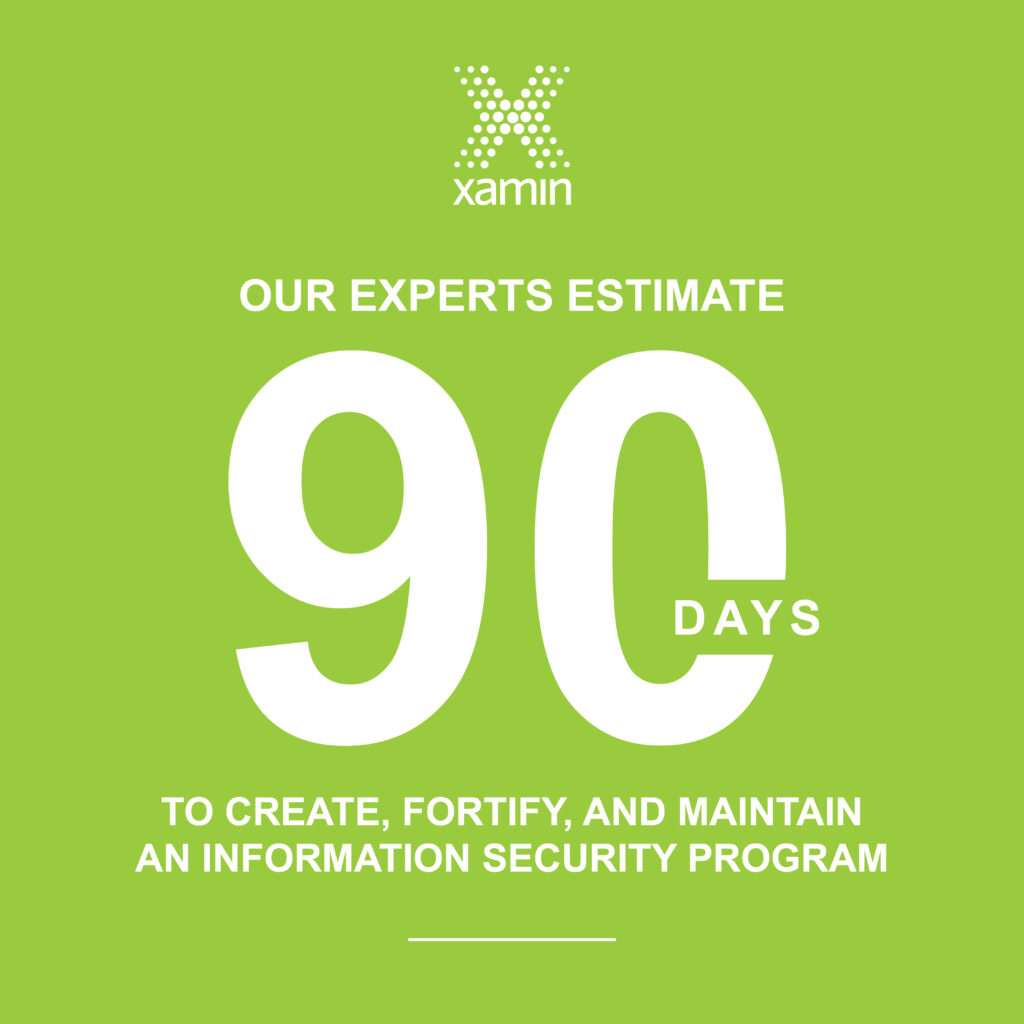 Upcoming Webinar
Are You in Compliance with the Safeguards Rule?
Wed, Apr 12, 2023 · 1:00 PM · CDT
Are you ready for the new FTC Safeguards Rule? There are still many organizations who are not compliant, and even more who are not yet aware they fall under the new rules.