Last week, we continued Xamin's 2022 webinar series with "Investigating the IT Staffing Crisis." The second installment of our series explores the IT skills gap, its effect on your business, and how to address it.
Below is a recap of the main points shared by expert Ben Fishbune—Xamin's Director of Business Development, a Solutions Architect, and a member of the leadership team. You can also watch a recording of the webinar in full by clicking the thumbnail below.
The IT Skills Gap
Compared to other functional areas in an organization (marketing, finance, operations, etc.), 30% of executives believe skills gaps are more prevalent in IT, and 93% of employers indicate there is a skills gap among their IT staff. The leading drivers of the gap? Fast changing technology (46%), lack of resources for skills development (43%), and education not translating into workforce performance (39%).
For both small and medium firms, the top reported concerns stemming from the IT skills gap are similar: updating aging computers and software, data storage and backups, cybersecurity, disaster recovery, and network infrastructure. Nearly 6 in 10 companies report being only moderately close or not even close to where they want to be with internal IT skills.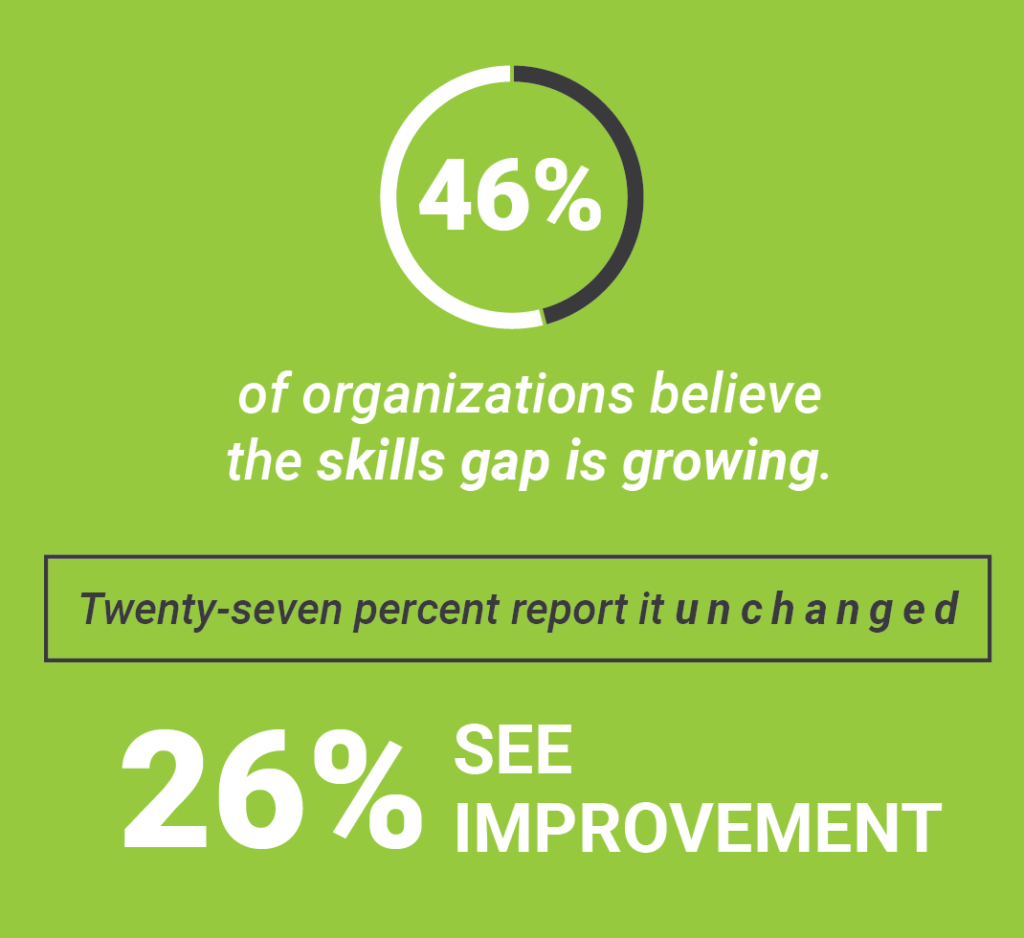 The Effect on Your Business
Cybercrime is a $6 trillion annual industry, affecting all businesses and individuals. Global cybercrime costs are expected to grow 15% per year over the next 5 years, reaching $10.5 trillion USD annually by 2025. For comparison, the cost was $3 trillion USD in 2015. Every 11 seconds, there is a ransomware attack on a business, and the likelihood of detection and prosecution of cybercriminals is 0.05%.
Global cybercrime damage costs…
$6 trillion USD per year
$500 billion USD per month
$115.4 billion USD per week
$16.4 billion USD per day
$684.9 million USD per hour
$11.4 million USD per minute
$190,000 USD per second
It's becoming less of an "if" and more of a "when." The effect on your organization is real, and regardless of your industry or size, you need to be prepared for the eventuality of a cyberattack. Nearly half of organizations believe the skills gap is growing, and as hiring becomes challenging, cyber criminals continue to become more sophisticated. How will you find the right people to address the ever-evolving threats?
But cyberattacks aren't the only threat to businesses. Business executives state technology plays a notable role in their organization's strategic objectives. Without CTOs how will you be able to set a holistic growth strategy? And without proper infrastructure in place, how will your organization be able to grow?
Addressing the Challenge
Your organization's IT budget should be a manifestation of your IT strategy, and your IT strategy a piece of your overall company goals.
In order to achieve this, you need to create a technology strategy that aligns with your company vision and build your IT infrastructure for the future—not the present. By developing a technology roadmap, you can begin to understand where you are today and what steps you need to take to achieve your goals. Ask yourself:
Who is the best team to implement your strategy?
Are you focused on securing the business from top to bottom?
How often are you reviewing your technology environment?
Are your decisions supporting your overall strategic roadmap?
How will you implement your evolving IT needs?
With these answers, you can create a Technology Roadmap. The way we recommend forming these is by creating a three-year timeline with schedules based on company milestones for strategic goals. There should be 5 key areas of focus: Infrastructure, Layout & Topology, Security, People, and Solutions & Services. With this in place, you can then analyze your staffing needs.

When staffing for your organization, you have two options: developing your internal team (by hiring and/or training) or outsourcing (specific or all IT needs).
Developing an Internal Team
Success on an internal team requires employees with multifaceted strengths. When hiring, you should not only consider candidates' hard skills (like languages and software experience), but also their behaviors and personality (how they react to issues and crises) and soft skills (how they talk to people).
Additionally, you should keep all current IT staff up-to-date on training, utilize PSA and RMM automation to maximize efficiency, and standardize the tools used in your organization. The more current and up-to-date your people and your software, the easier it will be to stick to your technology roadmap and meet organizational goals.
Utilizing IT Vendors
You can utilize IT vendors for all needs or supplement your current internal team with an outsourced team who can help with specific needs such as firewall management, vulnerability management, manage detect response (MDR), patching, endpoint security, etc.
The benefits to working with professionals outside of your organization include cost efficiency, real-time monitoring and analysis, time efficiency, and certified professionals.
Understanding IT Needs
If leaders don't fully understand what IT does and the challenges they face, they will not be able to grow their team's skills, training, and technology stack. In order to build an IT team—whether it's internal or outsourced—leadership must have trust in their IT team. IT teams should not only meet the needs of the organization (both technically and strategically), but they also need to be willing to communicate the needs and challenges they see, both at present and in the future.
If an IT skills gap exists, it can be dangerous if left uncorrected. Only by ensuring your IT operations are supported with a strong technical team will your organization be able to grow.